On the 1st February 2022 I (Mark Gale) spotted that reported data suggested that Sutton started collecting almost double the rubbish than they had in previous quarters.
I tweeted my findings.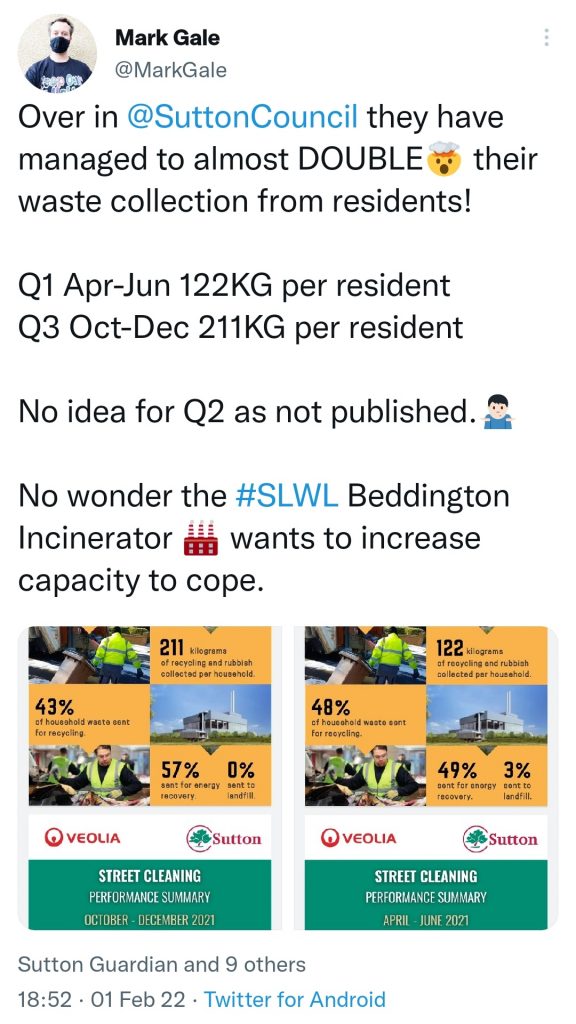 A few days later a new version was created without explanation. I didn't initially notice the change as the current Sutton Council website is a mess while they upgrade it. They had both versions online until a few days ago, on different similar landing pages. The old page with V1 data disappeared on or shortly after 25 May 2022.
Quarter 1 2021 Version 1
Created 28 July 2021 08:15
Sutton_Q1_2021_22_summary

Quarter 1 2021 Version 2
4 February 2022 14:42 a new "V2" Was created with different data for:
KG of recycling & Rubbish collected per household (one single combined figure)
and
Tonnes of street Litter collected
Recycling and waste collections and street cleaning summary April - June 2021 (1)

---
Quarter 2 2021 Version 1
Created 27 October 14:29
Sutton_Q2___2021_22_Summary

Quarter 2 2021 Version 2
4 February 2022 14:42 a new "V2" Was created with different data for:
KG of recycling & Rubbish collected per household (one single combined figure)
and
Tonnes of street Litter collected
Recycling and waste collections and street cleaning summary July – September 2021

See the latest version of the summary files at https://www.sutton.gov.uk/-/waste-collection-and-street-cleaning-performance