Journalist Stephen Menon is Head of News at Riverside Radio the South West London Radio station on DAB, Online and Smart Speaker interviews The Secretary of the Mitcham Cricket Green Community & Heritage, Tony Burton and Merton Council Cabinet Member for Regeneration, Housing and Transport, Cllr Martin Whelton.
Riverside Reports
First up tonight in our lead story, Merton Council had their controversial plans for the new Mitcham Bridge renamed the Bishopsford Bridge past last night.  Here's Stephen Menon with the story.
Stephen Menon: Last night controversial plans were approved for the new Bishopsford Bridge at Merton's Planning Application Committee.  Many residents have come out opposing the construction of the bridge including a total of 16 local groups and organisations.  The day before the planning application committee I spoke to Tony Burton who is the Secretary of Mitcham Cricket Green, one of the bodies currently opposing plans for the new Bishopsford Bridge.  I asked him what his major grievances with the bridge were.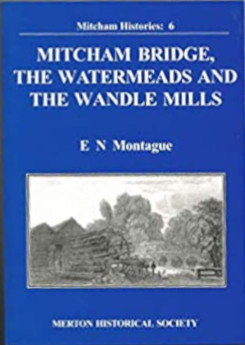 Tony Burton: The name actually is quite an issue, everyone calls it Mitcham Bridge except the council who insist on calling it Bishopsford Bridge.  It's been known as Mitcham Bridge for hundreds of years.
Stephen Menon: So it starts with the name and it goes on.  In the letter I have been sent there are five or six main issues, for you what are the three main core issues you would like to pick up upon, more than any of the others?
Tony Burton: Well this Mitcham Bridge is a key piece of public infrastructure, it's going to cost millions of pounds, it's going to last over a hundred and twenty years, it's really got to be fit for purpose, and in reality, the plans that are coming forward simply don't match up to what should be there. We're seeing significant tree felling, we're seeing the demolition of an historic wall that protects the local park and local residents from noise and pollution, and we're seeing a scheme that breaches modern cycling standards and isn't fit for purpose for the cyclists and other road users.
Stephen Menon: I mean, before we go on, and in a little bit more detail about some of these issues.  To play devil's advocate have the council not being told about this already.
Tony Burton: The Council's been told about this, ever since the bridge was demolished in a flood, which in itself is a story which owes much to mismanagement by the Council and by its contractors. It's continually failed to meet every deadline has it set itself in the development of the new plans, and we have reached out time and time again, asking to speak to the Council on the issues pointing out the ambitions that people have for the standards that need to be set, and the council's chosen not to engage, even on the one small piece of public consultation that it did take the design of this chosen of the two designs it put to the public. It's chosen the design that was rejected by local people and gone for the design that was least favourite.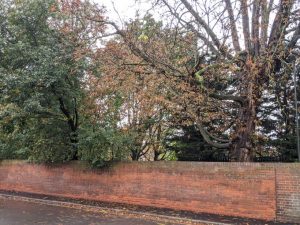 Stephen Menon: Part of building this bridge. It's actually destroying quite an historic wall. Could you explain a little bit about that for us?
Tony Burton: Yeah, so the bridge, the current bridge, which has been demolished, goes back, you know, well over 100 years, there's been a bridge on the site for hundreds of years, and even before that it was a Ford there. So this is an historic location. It's the gateway to Mitcham, it's the historic crossing of the River Wandle, and it in that context is really important. It's in a conservation area.  There's an important wall, which adds to the character of the area and which protects an important Park from the noise of a road and the air pollution, the litter, the dust and other pollution, which keeps it as a tranquil piece of green space, which is also a significant residential area as well, and one of the changes which the council is making is to demolish that historic wall and to remove the vegetation which also lines the A road which also is protected and opens up that that green space to all the noise and pollution that's going to flow from the road being reopened and heavy vehicles and car traffic using it.
Stephen Menon: I mean, I suppose some of our listeners would say, though, that actually, at some point, this wall was probably going to have to be taken down at least in part to build what would be this new bridge. What would you say to that?
Tony Burton: We don't believe that the best solution requires the demolition of the wall, we believe there are solutions which both provide the bridge, providers the standard which works for the cycling and other active travel which crosses The Wandle effectively, and which retains the protection for the green space.  The trouble is that the council has willfully chosen not to look at those options and focused itself purely on the land that it currently owns.
Stephen Menon: Right, of course, one issue that I've seen in the letter that I've been sent is that Metropolitan Open Land will be lost to the community forever, and the council does have a protect and retain kind of position in place on open space. To those of you of us who don't know what, what Metropolitan Open Land is, could you just explain a little bit and why it's important to have between.
Tony Burton: So Metropolitan Open Land is an important designation by planners of valued open space in Greater London.  It has the same protection in planning policy as greenbelt, and it's essentially there to be kept open in perpetuity. There have to be really exceptional reasons to justify the development or loss of Metropolitan Open Land. This is also a part of The Wandle Valley Regional Park. It's also designated as open space. It's also in a conservation area, and yet the scheme will lead to the tarmacking or concreting of a significant piece of open land, as well as the loss of trees, vegetation and the historic wall.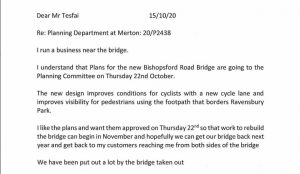 Stephen Menon: There was another bout of controversy on the day of the committee hearing, several letters of agreement for the bridge were submitted to the committee after the deadline had closed. Not only were the letters in breach of GDPR law, but at least one resident felt that they were misrepresented with the letter.  I spoke to the resident, but they requested to remain anonymous for fear of reprisal against that business from the council later down the line. This is what he had to say.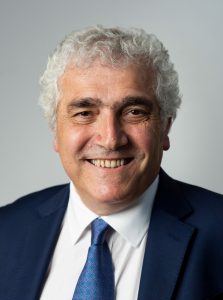 Actor voicing the words of the Business Man: The letter was written for me, it was just thrust in my face. It was written on my behalf. I didn't actually write it. It was written for me by the council or the council leader. He came in with it, and he just said that it was to do with a new bridge to get it all sorted. He said that people opposing plans were moaning that they wanted two cycle lanes, and I said, we can't have two as there wasn't enough space. He agreed, and said, they just wanted to get the job done. So I signed it. Then I got a call from the people who opposed it, and they asked "Were you aware where they're going to knock the wall down, and they're going to cut all the trees down".  Well, none of that was mentioned to me, I didn't sign for that.
Actor voicing the words of the Business Man: I'm annoyed because I wasn't told the full story. The letter was just thrust in front of me, and it was written for me, not by me, I just want this bridge opened up, but it's affecting my business. There was no mention of the wall being knocked down, the trees being knocked down. It's a little bit naughty.
Stephen Menon: After the plans were passed, I also spoke to the Cabinet Member for Regeneration, Housing and Transport, Martin Whelton. Here's what he had to say.
Stephen Menon: So to begin with, why is the council pushing ahead with a plan for this bridge, which hasn't actually got the green light from the design review panel?
Cllr Martin Whelton: The Design Review Panel first gave it an Amber, and they are an advisory committee, ultimately, they're not elected. The elected committee is the Planning Committee. So they give advice on design, but ultimately, obviously, it is for the planning committee. They don't have a veto over planning applications here in Merton.
Stephen Menon: Sure, of course.
Cllr Martin Whelton: But we believe it is a high-quality design ourselves, which meets our needs.
Stephen Menon: So I mean, in this instance, then would you say that, actually, you guys are deciding This is the right way, and you're not going you're not beholden to your residents to do what they're requesting?
Cllr Martin Whelton: I think the residence has been, you know, there's been a lot of residents who have supported this application. There was obviously a number of submissions made to the planning committee, and whilst we understand that some residents were against, you know, some of them were from outside of the local area. But you know, there's a lot of residents just want us to get on with it and build that bridge because it has been out of action for the 18 months, and as a council, we're determined to renew our infrastructure and to ensure that the bridge opens at the earliest opportunity. It has caused huge inconvenience for many businesses, located in that area, but also in terms of residents who've had to make detours and also bus diversions as well. So we think that this bridge is the best solution going forward. And we're pleased that Merton council planning committee has approved it.
Stephen Menon: Of course, and I'm glad that you brought up the letters of submission in support of the bridge.
Cllr Martin Whelton: Yes.
Stephen Menon: So there's there's two main questions I have with this first one.
Cllr Martin Whelton: Yes.
Stephen Menon: To your awareness. Did the council break GDPR law because I've got a copy here of a number of emails that have been sent to businesses, where their names haven't been redacted. The postcodes for where they live haven't been redacted. And I understand these were kind of put forward to the committee at a very late notice yesterday?
Cllr Martin Whelton: We believe that we have complied fully with GDPR. Clearly, there was stuff that was redacted, redacted in terms of the information that was submitted to the planning committee, and we believe that we have fully complied with all GDPR legislation. And if obviously, if people don't think we have they are entitled to complain to the Information Commissioner.
Stephen Menon: Of course. And then secondly, with regards to the letter, I spoke to a business owner earlier today, and in it, he said that actually, he feels like he's been misrepresented with this letter. He said "The letter was written for me and then just thrust in his face". And I mean, obviously, I haven't had time to speak to every business owner who's put their name to this letter. But could you see, can you see why?
Cllr Martin Whelton: I think obviously in relation to businesses, we understand that one business, a Motor Company did withdraw their applicant, did withdraw their letter and that was notified to the planning committee. I think we have been transparent. Clearly the bridge has been replaced by a fence. And if you are to build a modern bridge, it does require widening, also as well to accommodate cycling. So is there is a take of trees, but obviously, those trees will be replanted and as a consequence.
Stephen Menon: Sure, so you don't feel the council has misrepresented the plan.
Cllr Martin Whelton: I don't feel we've misrepresented the plans at all. We understand local councillors including Councillor Alambritis acting in their capacity as Ward councillors, and in many applications, as Ward councillors we Yeah, we do seek public support for a particular application, as well.
Stephen Menon: When the plans for the bridges were put in front of the residents, the design of bridge which the residents chose wasn't actually the one that the council picked in the end. They ignored that and when the other option, could you explain a little bit as to why that happened?
Cllr Martin Whelton: I think in terms of the design of the bridge, you know, that's obviously a consultative survey, we have to take all things into consideration.  I think in terms of the bridge, we also have to take a listen very closely to Environment Agency representations because obviously, it's over water, and there is flooding issues in the area. So you know, there's a whole range of other issues we need to take into account in terms of building design a significant proportion, were in favour of the bridge design, I think it was 39% in terms of 51% for the other design, so I think Yeah, we did listen very closely, but you know, along with residents, obviously, we have to listen to other consultees and the Environment Agency, you know, play an important role in this.
Stephen Menon: Before I let you go and I know you must be busy. The first one is 23 trees are going to be cut down all of which, does this not fly in the face of the whole environmental emergency bill that Merton Council has done?
Cllr Martin Whelton: Yeah, well, firstly in terms of the trees and yeah, we are asking, yes, you said we are replanting the trees. If you were to get a bridge that met modern specifications, then inevitably, it will involve a take of trees, you know, in terms of engineering solutions, this is a far far superior bridge than we had there previously, any application of this sort, when you are actually widening the road as well will involve some tree take. I think what is important is obviously that we replace those trees and recognising obviously trees do play an important role. I will say, No, we're not going back to the drawing board.
Unknown Speaker: That was Stephen Menon reporting.