Merton Council used to broadcast Council and Committee meetings, the first meeting to be seen from home/work/on the train etc was Full Council on 27 March 2013 but this stopped after a Planning Applications Committee on 11 February 2016.  The 35 months were limited in subject with them being Full Council meetings, Planning Applications Committee meetings
and Street Management Advisory Committee meetings.
In October 2013 the Democracy Services team began to use a new agenda management publication system. This automatically synchronised with the webcasting software to minimise the work done by the operator prior to the meeting. It has also improved the experience for the user, as when browsing the agenda for a meeting, a link is supplied to click directly through to watch the item on the webcast.
The system was hosted by Public-i.tv which hosted the videos and provided the software and website to navigate the videos.
The cost of the broadcasts was around £15, 000 a year, the majority paid directly to Public-i.tv for equipment and hosting, and around £1340 of staffing costs in overtime for a single member of staff to sit at the back of the chamber and hit the broadcast/record button.
They broadcast the meetings LIVE and also stored the recording for 6 months to refer back at a later date, Merton.TV believes the recordings are valuable and will be kept indefinitely and will not be purged after six months.
As part of the 2015 Budget setting process it was decided to end the webcasting.  Suggestions of sponsorship or using an in house service from the Merton Conservatives were ignored.  Merton Labour suggest that an in-house system would cost the same as the outsourced service?
Merton.TV has chosen Google's YouTube to host the videos for reliability, capacity and to allow for greatest accessibility across all devices.  Some meetings are also broadcast/recorded using Twitter's Periscope system, this allows LIVE video to be shared quickly, but is limited in quality of both video and sound, video is recorded at 540p (800 Kbps).  The audio is compressed, and when it starts poor due to the Merton Council setup designed solely for the members of the meeting rather than incorporating the audience means it can be difficult to follow.  ALL Merton.TV recordings have the audio enhanced to increase the sound.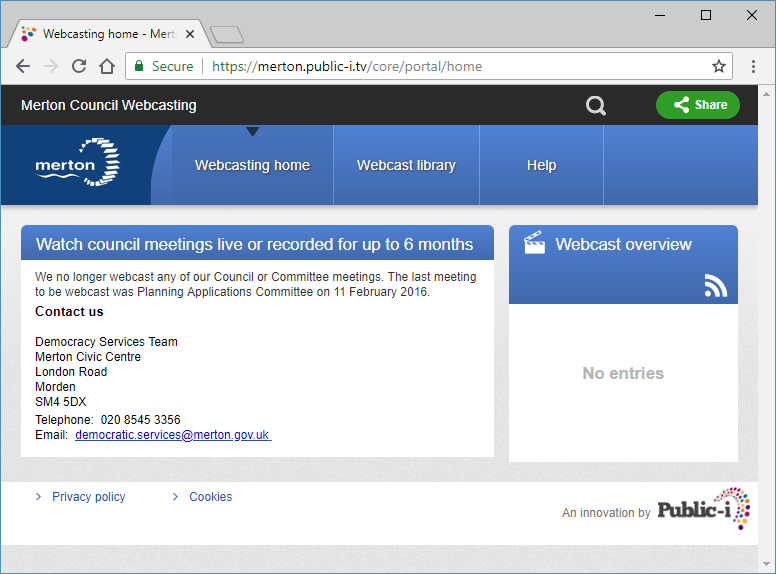 References