The meeting was chaired by St Andrew's Church Minister Charlie Lamont, with Liberal Democrat Councillor Paul Kohler providing details of the Court Case.  Conservatives were represented by Councillor James Holmes, and Merton Park Independents Councillor Peter Southgate also was involved.  Merton Green Party representative Pippa Maslin was present at the meeting sitting in the first row with the public audience.  There was nobody from Merton Labour party.
Letter sent out to party leaders inviting them to the meeting (Dated 30th August):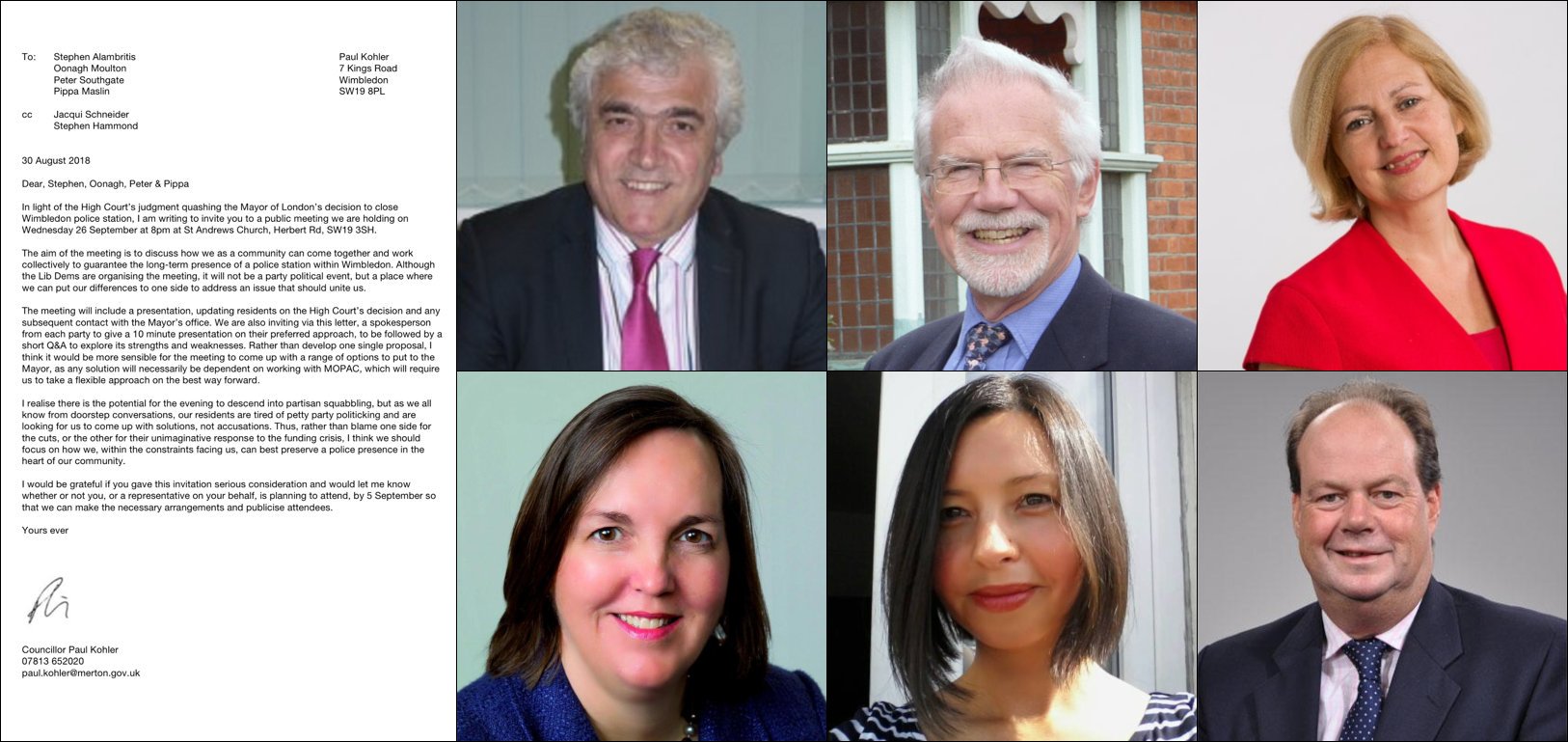 Labour Council Leader Stephen Alambritis, Conservative Group Oonagh Moulton, Merton Park Independents Peter Southgate, Green Party Pippa Maslin, Labour Parliamentary Candidate Jackie Schneider, Member of Parliament for Wimbledon Stephen Hammond
To: Stephen Alambritis, Oonagh Moulton, Peter Southgate, Pippa Maslin
cc: Jacqui Schneider, Stephen Hammond

30 August 2018

Dear Stephen, Oonagh, Peter & Pippa

In light of the High Court's judgement quashing the Mayor of London's decision to close Wimbledon police station. I am writing to invite you to a public meeting we are holding on Wednesday 26 September at 8pm at St Andrew's Church, Herbert Rd, SW19 3SH.

The aim of the meeting is to discuss how we as a community can come together and work collectively to guarantee the long-term presence of a police station within Wimbledon.  Although the Lib Dems are organising the meeting, it will not be a party political event, but a place where we can put our differences to one side to address to address an issue that should unite us.

The meeting will include a presentation, updating residents on the High Court's decision and any subsequent contact with the Mayor's office.  We are also inviting via this letter, a spokesperson from each party to give a 10 minute presentation on their preferred approach, to be followed by a short Q&A to explore its strengths and weaknesses.  Rather than develop one single proposal, I think it would be more sensible for the meeting to come up with a range of options to put to the Mayor, as any solution will necessarily be dependent on working with MOPAC, which will require us to take a flexible approach on the best way forward.

I realise there is the potential for the evening to descend into partisan squabbling, but as we all know from doorstep conversations, our residents are tired of petty party politicking and are looking for us to come up with solutions, not accusations.  Thus, rather than blame one side for the cuts, or the other for their unimaginative responses to the funding crisis, I think we should focus on how we, within the constraints facing us, can best preserve a police presence in the heart of our community.

I would be grateful if you gave this invitation serious consideration and would let me know whether or not you, or a representative on your behalf, is planning to attend, by 5 September so that we can make the necessary arrangements and publicise the attendees.

Yours ever

Councillor Paul Kohler
Letter sent out to many residents advising of the meeting:
Taking real action to save Wimbledon Police Station

Cllr Paul Kohler
Kings Road
Wimbledon,
SW19 8PL

Dear residents,

As you might know, last year I started a court case to overturn the Mayor of London's plan to close over half London's police stations.

On 20 July, I'm pleased to say that the High Court quashed the Mayor's decision to close Wimbledon police station, in a ruling that was critical of his entire consultation into all the closures.

In the case of Wimbledon police station, the Court ruled that the Mayor's decision was unlawful because he failed to properly consider Merton Liberal Democrats' submission that a proper evaluation of the impact of new technology should take place before our local police station was closed.

Court case success

This success, however, is not down to me, but the thousands of people who contributed to the campaign, forwarded its details to family and friends, and signed our petition.

I am extremely proud we received over 3000 signatures and that the fundraising drive led by Merton Lib Dems raised over £11,000 to help pay for real action to fight for local police services. 

Winning the court case was crucial, as it has given us a second chance to save our police station. The Mayor has been forced to reconsider his decision and should now undertake a new consultation, in which every option to preserve a police station in Wimbledon is examined and judged on its merits. My legal team has consequently written to the Mayor's office suggesting an early meeting to discuss how this might be achieved.

Strong, united voice – fighting for a fresh start on community policing

Merton needs to learn from the Council's previous failure to submit a coherent plan to oppose the closure, and seize this new opportunity, by speaking with a strong and united voice, this time.

So I hope you will join me at a public meeting, to determine our next steps, on Wednesday 26 September, from 8pm-10pm at St Andrew's Church, Herbert Rd, SW19 3SH.

I have repeatedly reached out to local Labour and Conservative politicians to put aside partisan differences, and work together on this issue for the good of the community. I am now doing so again, by organising this meeting and inviting their leaders to attend.

Losing a police presence in the heart of Wimbledon will detrimentally affect everyone who lives, works and plays in this wonderful part of London. The threat should be something that unites, rather than divides, us; and with your support we can ensure that it does.

Yours ever,

Cllr Paul Kohler
Liberal Democrat (Trinity ward)

PS The Lib Dem team are leading the fight against the closure of Wimbledon Police Station, so please join us on Wednesday 26 September, from 8pm-10pm at St Andrew's Church, Herbert Rd, SW19 3SH, to have your say in what we do next.

Please let me know if you can make it, or would like to be kept informed on what we decide, by emailing me on paul@mertonlibdems.org.uk.
8 page document handed out to attendees of the meeting.
Merton.TV #SaveWimbledonPoliceStation Handout

After the meeting Labour Parliamentary Candidate Jackie Schneider, complained about the timing of the meeting as it was shortly after the Labour conference in Liverpool and not all attendees had returned in time.
No Labour representatives attended:
from those that didn't visit conference
from those that had returned from conference
or provided any written response as the other parties had.
We offered directly to Jackie Schneider to publish her plans, but she has not taken up the offer.